Once upon a time, in a land of Eldrida, there was a wizard so powerful, even the stars trembled at his command. He was feared and respected by all, and his vast wealth and powerful artifacts were the stuff of legends.

But alas! The Council of Wizards, with their fancy robes and their fancy words, banished him to a dark and twisted forest, with nothing but his robes and his wit to defend himself.
The forest was a land of mystery and magic, where snails sang songs, bugs played games and centipedes danced in the moonlight.

But our wizard was determined to not let this banishment break him, so he set out to explore the forest, in search of a way to regain his power and take his revenge on the Council.

As he delved deeper into the forest, he encountered strange creatures, and uncovered secrets that were both wondrous and terrifying. He found the ruins of an old wizard tower, and decided to make it his base of operations. He set about to uncover the secrets of the forest, and reclaim his lost memories, in the hopes of finding a way back to his former glory.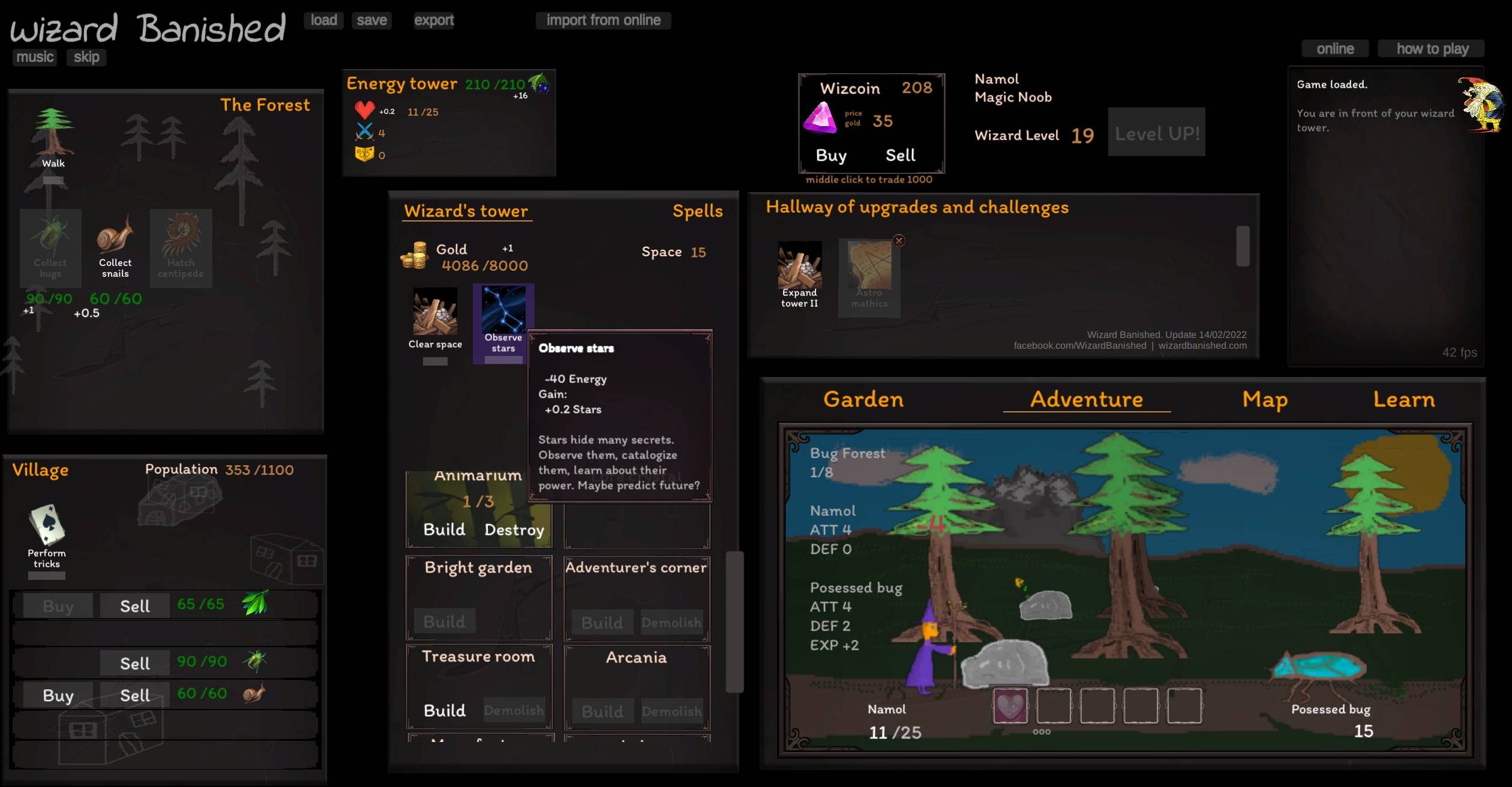 incremental indie game about wizard, who has been banished and lost magic power, but... did not give up!
play only on PC (mobiles not supported)
its indie game developed only by me and totally free; just for fun
beta version and still under development
like the game on facebook or send feedback: facebook.com/wizardbanished
(thank you for all the feedback and bug reports!)
or join DISCORD https://discord.gg/22723jhcBB
play experimental version containing lots of new content (recommended)
features:
manage your tower, your garden and forest
trade with nearby village and build your economy
start earning your magick back
explore and fight nearby places
build your specialization - be a shaman, forest mage, star enchanter or battle mage
...dont worry, you have just to click on icons:)
wait till game is loaded; play in fullscreen; use right and middle click to perform action multiple times